In school it was called
peer pressure.
As an adult, I like to think of it as
Pinterest pressure.
And I have succumbed to it.
For 30 years, I have lived on this Earth.
And for 30 years I bought Valentine cards in a box.
I always experienced great joy as a child picking out my Valentines for my classmates.
Cabbage Patch, Strawberry Short Cake, Care Bear, Rainbow Bright, Alf.
Yes, those were the days.
I even enjoyed picking out Valentines with my son. He had some lovely Mickey Mouse ones a few years ago. And, it was so easy then. I felt like a good mom because I bought him the ones with foil stickers.
But this year, after way too many hours on Pinterest, I realize that buying foil sticker Valentines are not enough. I must
make
the valentines. With my own two hands. Like pioneer women scrubbing their family's linens on washboards, I must aimlessly wonder the aisles of Dollar Tree while my family waits in the car.
Pondering over plastic toys.
Comparing Prices
Adding Quantities
Dividing Total Cost
All the while, racking my brain for some catchy, Valentine-ish, not to girly, age appropriate catchy phrase to go along with said toy. (I found some neat dice but I could only think of "Lucky & Rolling" as the key phrase words... and it didn't scream kindergarten Valentine's Day party to me.)
Finally I found a heart shaped maze and it was like divine intervention.
"You A-Maze Me."
Aahhh.
Sweet Success.
Although, I have a boys, boy. Easily offended by anything he perceives as girly. These were hearts. And some of them were pink. Would I be able to reason with him? Probably not. But maybe if I mixed it with something really boy-ish...
Then I spotted it. A bag of big bugs. That's it. Big gross bugs that 3 years ago I would have never in a million years associated with valentines day. But us mommy's of boy's know that a big bag of bugs does not bring disgust. It brings joy to the hearts of little boys.
And so did this saying...
"You drive be buggy!"
Mission Accomplished.
Here are some pics of my happy boy putting together his valentines.
Here are my Dollar Tree finds.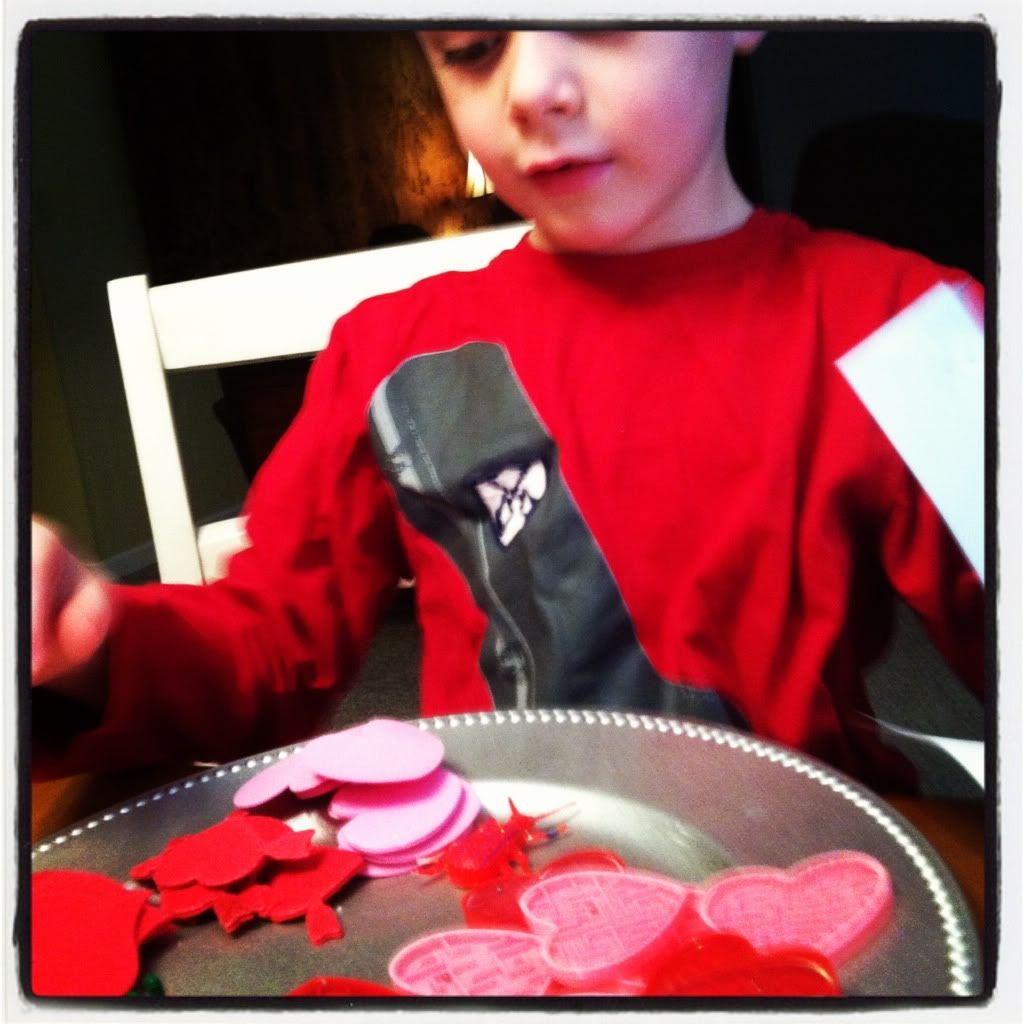 Examining the goods.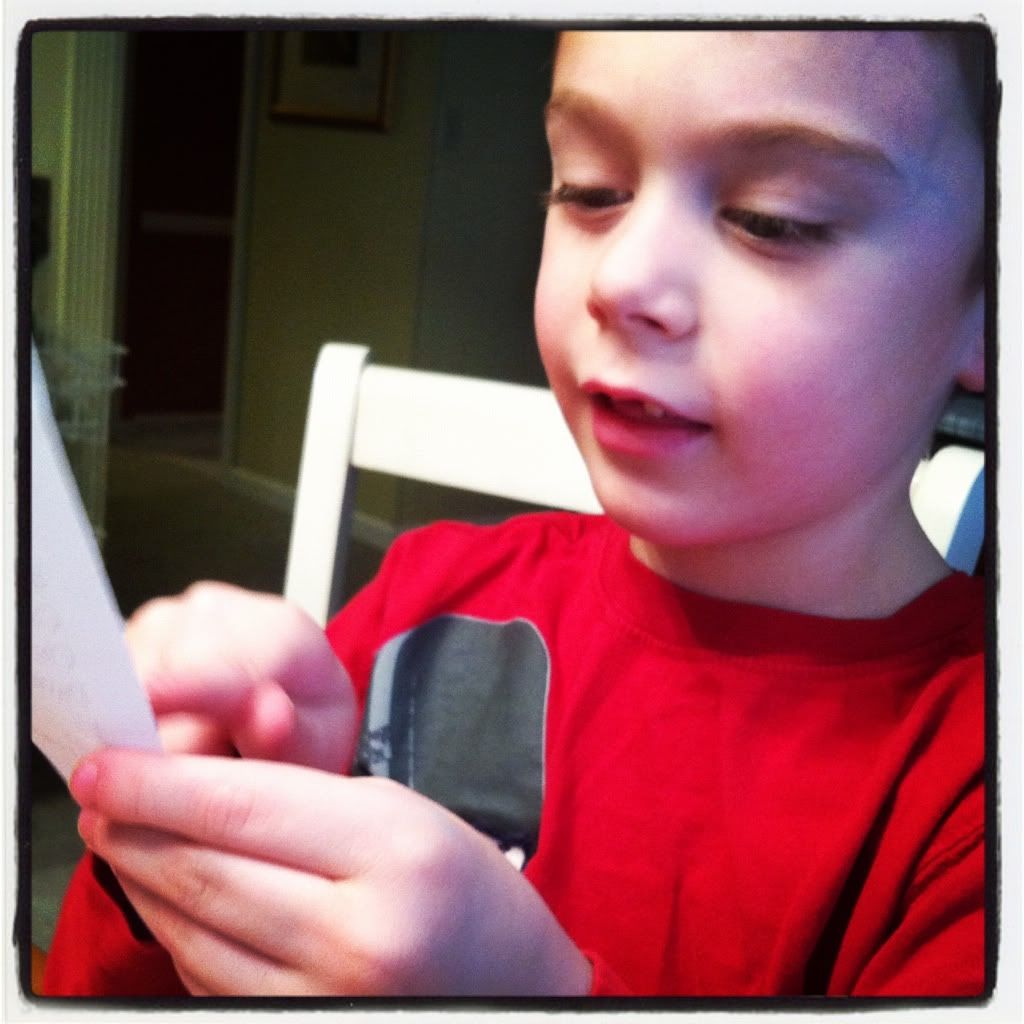 Analyzing the list. & Determining who gets each trinket.
Filling the bags is serious business.
Maze Valentine. (Please see note below.)
Buggy Valentine.
Will I forever make my son's Valentine cards now? Am I a Pinterest-Holiday convert? I'd like to say yes... but realistically. I don't know. The truth is next year I'll probably do what ever my boy wants to do. If he thinks it is fun to pick out Dollar Tree toys and make them. We will. Although, next year I'll probably have him come up with the catch phrase. But if he decides that he wants Batman Valentines with foil stickers... Well, thats just fine too.
*Maze Valentine: The "Love Maze" image was found
HERE
. It actually can be printed full size and would be a great activity for a valentines party.
*Buggy Valentine: Unfortunately, the link for this image does not work. I know this odd but it opens up advertisements only. I found the image through a google image search of "free bug clip-art" There are also some cute "Bugs Life" free fonts you can download that would be cute for this Valentine.
*Tip: I formatted these to fit on an Avery Business Card template so they wouldn't have to be cut. (But as you can tell by the uneven lines, I got in a hurry to blog and printed one of each on regular paper because I couldn't quickly find my extra business card paper.)
If you'd like a PDF of my cards, please send me your email address and I will be glad to send them to you.